BADGER CULL 2016
There was a massive expansion of the cull in 2016, from four to 10 areas. As well as Dorset (2 Zones), Gloucestershire (2 zones) and Somerset, there are now cull zones in Devon (2), Cornwall (2) and Herefordshire. The fugures for the number of badgers killed make shocking reading - 10,886 in Total!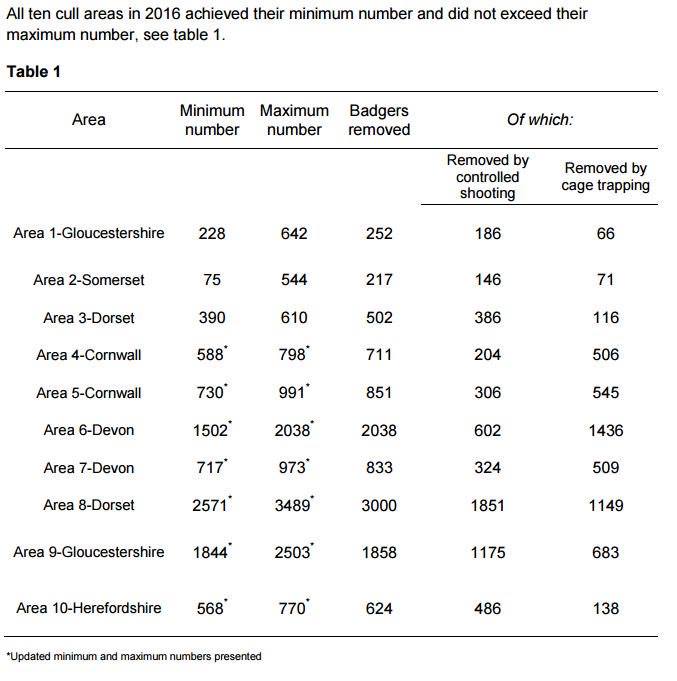 The current government seems determined to pursue its cull policy despite the lack of any scientific or economic rationale. In fact, two reports came out in 2016, both of which further undermined the already tenuous case for culling badgers as a means of controlling bovine TB. The first was a paper by Professor Rosie Woodroffe, a senior research fellow at the Zoological Society of London, which found that while badgers do favour cattle pasture as a habitat, they typically avoid cattle. Although collared cattle spent 2914 collar-nights in the home ranges of contact-collared badgers, and 5380 collar-nights in the home ranges of GPS-collared badgers, no direct contacts between the two species was detected. Simultaneous GPS-tracking revealed that badgers preferred land > 50 m from cattle. This strongly suggests that direct contact transmission between the two species is highly unlikely. See
Imperial college press release
.
A second study by Queen Mary University of London showed the link between badgers and cattle for TB transmission to be weak, and that the route of infection for cattle is from other cattle, rather than from other species. Reciprocally, badgers are mainly infected by other infected badgers. See Queen Mary University press release.
This report comes after the paper by leading badger expert, Dr Chris Cheeseman, in which he explains why the cull is almost certain to make the situation worse: The Elephant in the room
The government contends that the cull is necessary to help control bovine TB despite the fact that in 2007 a comprehensive report was produced by a panel of leading scientific experts appointed by the Secretary of State for Environment, Food and Rural Affairs, and chaired by Professor John Bourne. The report of the Independent Scientific Group on Cattle TB, entitled "Bovine TB:The Scientific Evidence" concluded "careful evaluation of our own and others' data indicates that badger culling can make no meaningful contribution to cattle TB control in Britain."
No subsequent scientific research or investigation has been undertaken or released that counters this conclusion, and yet the current government, against the advice of leading scientists, has pursued this misguided and cruel policy. Even more extraordinarily, no attempt is made to verify if the culled badgers actually had TB. Of course, the vast majority do not, so most of the badgers killed will have been healthy. Regarding the decision to pursue a cull in the face of scientific evidence, Professor John Bourne has commented "I think the most interesting observation was made to me by a senior politician, who said, 'Fine, John, we accept your science, but we have to offer farmers a carrot. And the only carrot we can possibly give them is culling badgers". It is sickening to think that more than 15,000 badgers have been slaughtered in the past three years simply to mollify the NFU.
Information about the issue of TB and what role badgers have in this can be found on the Badger Trust website (link on left).